Be The Media Update: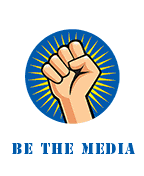 One benefit of joining our VIP club is our free newsletter, the BE THE MEDIA Update.
Update is our electronic newsletter packed with information and tips to help you build your audience, self-publish your work, get widespread distribution, and keep more of your royalties.
There is no cost or obligation, simply enter your email and subscribe below. We will send you special discounts, bonuses, and alerts, designed specifically for our elite VIP club members.
Just enter your email address in the box below and hit Subscribe Me Now!
Below you will find some sample issues of previous BE THE MEDIA Update:
2009
02.03.2009: BE THE MEDIA Update Issue #6: Special Edition: Book Release March 1st!

2008
12.15.2008: BE THE MEDIA Update Issue #5: Financial Rescue Plan: Let's help each other!
11.11.2008: BE THE MEDIA Update Issue #4: Get more exposure: BE THE MEDIA
2007
10.16.2007: BE THE MEDIA Update Issue #3: Build Your Platform, Grow Your Audience
09.26.2007: BE THE MEDIA Update Issue #2: The Musician Edition
08.15.2007: BE THE MEDIA Update Issue #1: BE THE MEDIA at BEA (Book Expo America)
---